Landscapes | Fountains & Canales
Saving water is an important part of living sustainably and taking care of our planet. But how can we make sure that we're doing our best to conserve water?
For dry climates here in the Southwest, one strategy for water conservation is to harvest your rainwater. Installing rainwater-catching barrels on homes and businesses is just one effective method of harvesting rainwater and putting it to better use. Easily add a new dimension to your home or business's sustainability by elegantly channeling your flat roof's rainwater with our durable powder-coated metal Canale + Rain Chain Waterfall™ that is customized to fit your needs.
Water conservation is more important than ever and going with the flow is one way to help!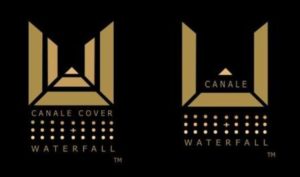 The Canale + Rain Chain Waterfall™
Our patented Canale Cover + Rain Chain Waterfall™ easily solve the costly dilemma of having to replace conventional wooden canales. It fits securely over an existing canale, while the sturdy steel plate construction and powder coat finish make it weather resistant. The design is ideal for water conservation efforts.
 Each Rain Chain Waterfall is unique in the quantity and length of chains chosen, as well as the brass rain chains' distinctive patina over time. They respond to natural weather changes by becoming harmonious wind chimes during breezy days; cascading waterfalls during rainy days; sculptural icicle formations during winter.
For new construction consider the Canale + Rain Chain Waterfall™.  Our Canale's were most recently featured in New Mexico's Fall Parade of Homes 2017 and pictured in Su Casa Magazine.
Our customer feedback says it best: " The Canale's are gorgeous–really are. Thanks for adding another dimension to our house." – SD, Santa Fe Homeowner